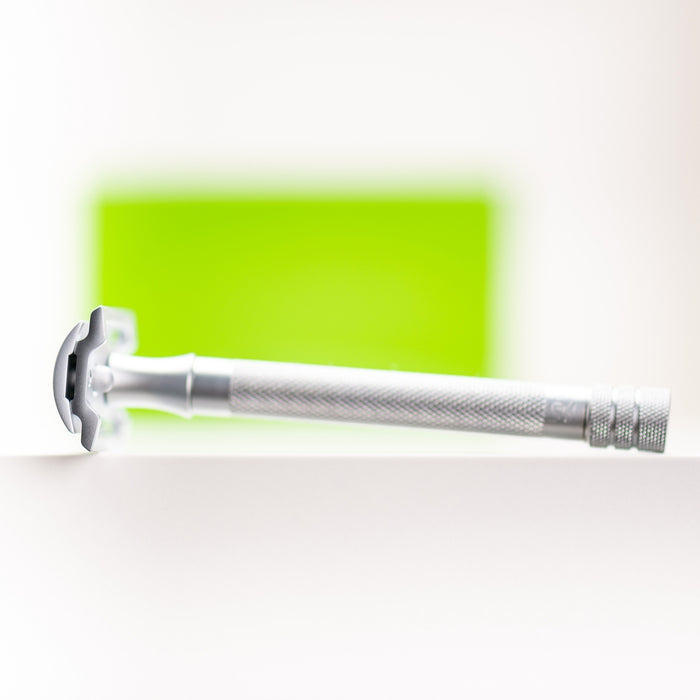 Merkur DE Razor, Straight Comb, Long Handle, Matt Chrome, MK-22002
The MERKUR 23B is made for a close and easy shave. This Merkur Double Edge Safety Razor is all over coated with Black PVD. The 3-piece set comes with a long knurled handle which ensures a strong grip and gives you a range of movements. The spacious blade gap allows a high soap flow and also makes cleaning noticeably easier. Merkur 23B here stands for the Merkur 23 in Black.
The long handle enables a smooth shave and the closed comb is an all-rounder for classic wet shaving. The generous blade gap allows high soap flow protecting the razor head from clogging with cut hair or lather residue.
Features:
Three-piece Safety Razor
Straight Cut
long handle
Matte chrome
Honourably Designed and Made in Germany
Details:
Material surface: Matte chrome
Packaging: Folding box
Packaging size: 132x52x27
Product weight (with packaging):: 75
Product measurements: 104x41x25
Product weight: 61
MATERIALS:
Brass handle, die-casted zinc razor head, galvanized surfaces, matt chrome-plated.