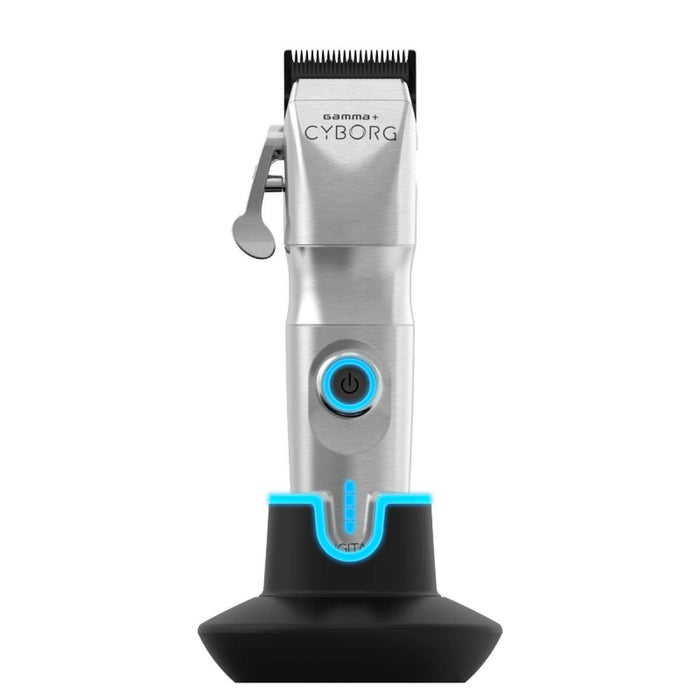 Gamma+ Cyborg Hair Clipper
The Gamma+ Cyborg Hair Clipper is a fusion of smart technology and robust performance, designed to meet the demands of professional barbers and stylists. With a powerful digital motor boasting 7500 RPM and high torque, this clipper ensures precise and efficient cutting for a variety of styles.
Key Features:Digital Powerhouse:
A robust digital motor with 7500 RPM ensures consistent power for precision cutting, all while maintaining low vibration and reduced noise, ensuring a quiet and comfortable grooming experience.
Stylish High-Tech Design:
The Cyborg's vintage-meets-high-tech design makes it a standout piece in any barber's toolkit, offering a touch of classic and contemporary aesthetics.
Ambidextrous Flexibility:
Tailored for both right and left-handed users, the clipper boasts two customizable levers (floating or click) for each side, providing comfort and precision for all professionals.
Exceptional Blade Performance:
Fitted with a Fixed Black Diamond Fade blade and Black Diamond Deep Slim cutting blade, the Cyborg guarantees smooth, efficient cutting, delivering flawless results for your clients.
Efficient Power Delivery:
The 7500 RPM digital motor ensures optimal power transfer, delivering a seamless and precise cutting experience, even with challenging hair types.
Convenient Docking Station:
The heavy-duty docking station with anti-sliding features and an LED light keeps your workspace organized and the Cyborg ready for action.
Extended Battery Life:
With a quick 150-minute charging time and a rechargeable battery, enjoy up to 200 minutes of runtime. Four LED lights indicate battery levels, preventing unexpected interruptions during grooming sessions.
Ergonomic Build:
The full metal body of the Cyborg is both durable and ergonomic. The recessed hand grip enhances stability and safe handling, reducing the risk of accidents during use.