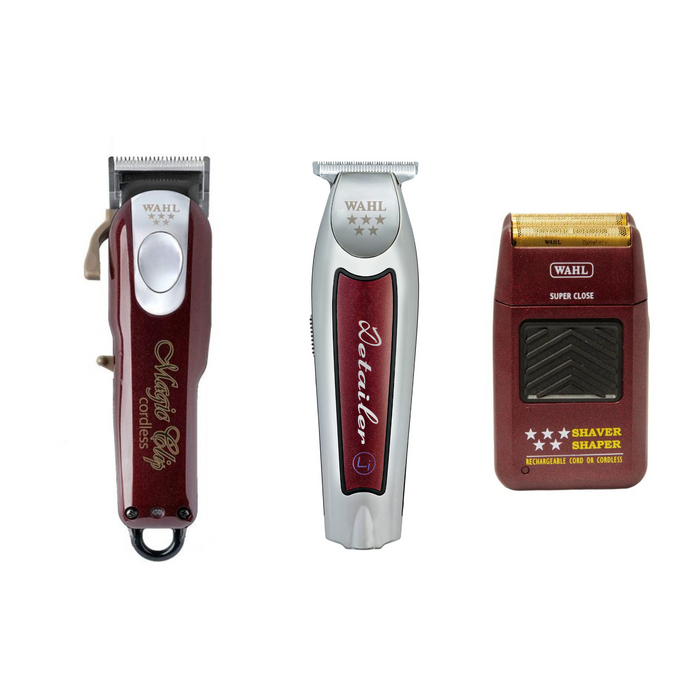 GW-1115 Magic Clip cordless + Detailer cordless + Shaver Shaper
This is a retail item available for you to sell in your Barbershop / Salon.

Please Login / Register to view pricing and purchase retail items.
Wahl 5-Star Cordless Lithium Magic Clip Clipper:
Wahl's Magic Clip is a cordless electric razor with a powerful rotary motor, featuring a new "STAGGER-TOOTH" blade with "CRUNCH" blade technology for a smoother and faster cut. It has a lithium-ion battery with a 90-minute run time and a 2-hour charge time. The adjustable lever varies the taper and texture of the cut without changing the blade, making it ideal for precision fades and blends. The lightweight and sleek ergonomic design includes worldwide voltage. The kit includes a professional cord/cordless clipper, blade guard, eight guide combs (1/16"-1"), cleaning brush, blade oil, recharging transformer, and operating instructions.
Wahl 5-Star Cordless Detailer Lithium-Ion Cord/Cordless Trimmer:
Precision trimmer with T-shaped blades that adjust to zero overlaps, allowing for extremely close trimming and crisp, clean lines. The trimmer features improved blade mount technology and an extended cutting area for faster results. It is cord/cordless with a lithium-ion battery providing a 100-minute run time and 60-minute charge time. The ergonomic design includes a rotary motor, LED indicator, and space-saving recharge stand with a cord rotation feature. The kit includes three trimming guides (½, 1 & 1 ½), a red blade guard, a charging stand, a recharging transformer, a pre-shave brush, an oil, a cleaning brush, and a manual.
Wahl Professional 5-Star Series Rechargeable Shaver/Shaper:
The Wahl's 5-Star Shaver/Shaper is a high-performance detailing tool that delivers a bump-free shaving experience. It features a specially angled shaver head with gold hypoallergenic foil for clean and precise trimming of hair and necklines. The shaver is rechargeable and operates cordlessly, offering up to 1 hour of run time. With its razor-close cutting ability, it is perfect for finishing and blending bald fades without causing irritation. The kit includes a professional shaver, foil guard, wall plug charger, pre-shave brush, cleaning brush, and operating instructions. An optional recharge stand is also available separately.