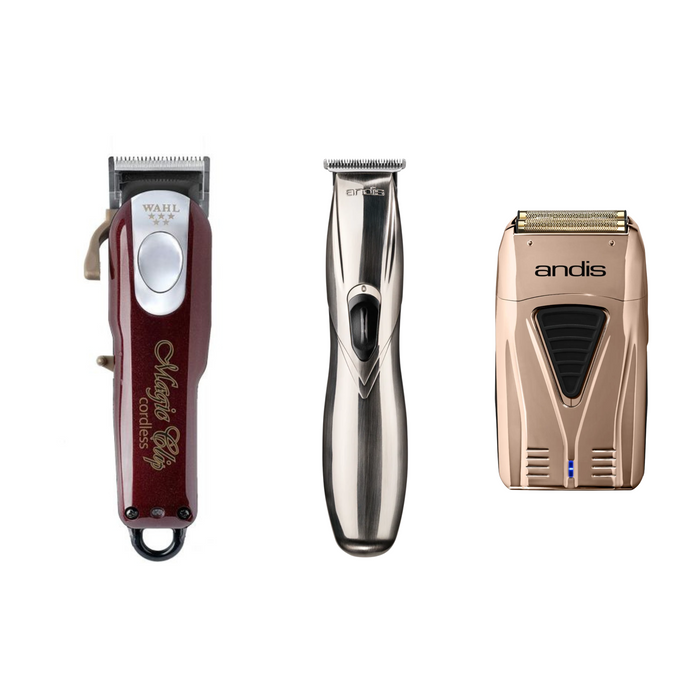 GW-1116 ANDIS-17220 + ANDIS-32400 + Wahl Magic cordless
This is a retail item available for you to sell in your Barbershop / Salon.

Please Login / Register to view pricing and purchase retail items.
Andis ProFoil Lithium Plus Titanium Foil Shaver, Cord/Cordless (Copper):
The ProFoil Shaver in rich copper is a high-performance grooming tool that delivers precision shaving for bold creators. It features a lithium-ion battery that provides maximum power and delivers over 1 hour of runtime on a single charge, which is 2X longer than other shavers. With its lightweight design, weighing less than 5 ounces, it is easy to handle and maneuver for a comfortable and efficient shaving experience. This new, great-looking copper-coloured shaver from Andis is perfect for those who want to showcase their unique personality while maintaining a well-groomed appearance.
ANDIS Slimline Pro Li Trimmer (Chrome):
The Andis Slimline Pro Li Trimmer Chrome is a high-performance grooming tool designed for light-duty touch-ups and trimming around necklines. Equipped with a #32105 T-Blade that may be zero-gapped, this trimmer features an improved rotary motor that delivers increased speed, power, and longer life. Its lithium-ion battery provides up to 2 hours of run time with a 2 hours, 15-minute charge time, making it perfect for busy professionals. The kit includes a trimmer, 4pc attachment cutting guides, blade oil and brush, charging adapter and stand, and a one-year manufacturer warranty. This trimmer is made in the USA and is balanced, ergonomic, and easy to handle for a comfortable and efficient grooming experience.
Wahl 5-Star Cordless Lithium Magic Clip Clipper:
Wahl's Magic Clip is a cordless electric razor with a powerful rotary motor, featuring a new "STAGGER-TOOTH" blade with "CRUNCH" blade technology for a smoother and faster cut. It has a lithium-ion battery with a 90-minute run time and a 2-hour charge time. The adjustable lever varies the taper and texture of the cut without changing the blade, making it ideal for precision fades and blends. The lightweight and sleek ergonomic design includes worldwide voltage. The kit includes a professional cord/cordless clipper, blade guard, eight guide combs (1/16"-1"), cleaning brush, blade oil, recharging transformer, and operating instructions.