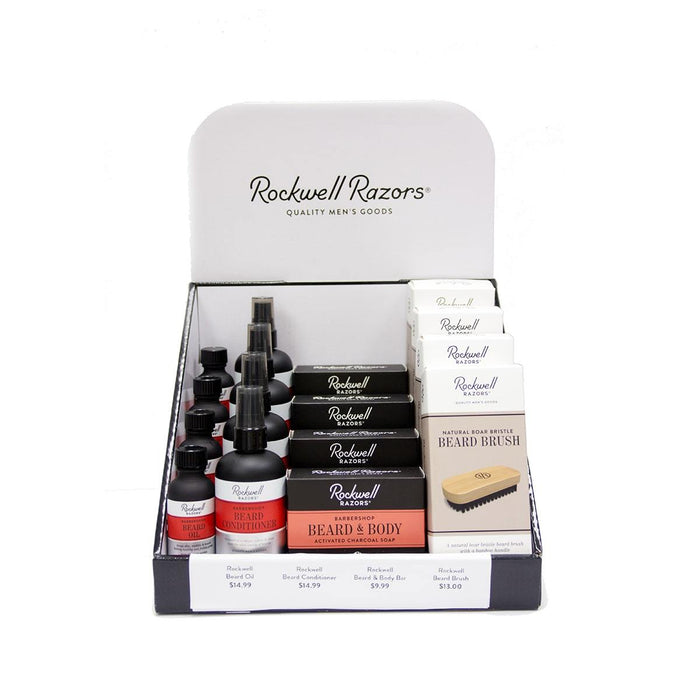 Rockwell Beard Collection Retail Display Bundle for Sport Clips
Free shipping
This filled retail display for Sport Clips locations includes 4 Rockwell Beard Oils, 4 Beard Brushes, 4 Beard Conditioners, and 4 Beard & Body Bar. Comes with Navy/white header.  
With header: 10" x 8'' x 14" (LxWxH)
Without header: 8" x 8'' x 14" (LxWxH)
Rockwell's Beard Collection offers quality men's products to your clients at unbeatable prices. Clients love our timeless  'Barbershop Scent' - which has notes of Leather, Neroli, Anise, Lilac and Cedar. All Rockwell soft good products feature the same iconic Barbershop fragrance.
Rockwell Beard Oil
Formulated with organic, natural ingredients and oils. Reduces beard itch, and provides a light shine for a more distinguished looking beard. Ideal for shorter beards.
Rockwell Beard Conditioner
Formulated to shape, soften, and clean even the most unruly of beards. Softens and conditions skin and facial hair. Ideal for longer beards.
Rockwell Beard & Body Bar
Formulated to clean skin and facial hair. Uses premium jojoba oil, shea butter, and activated charcoal to leave skin fresh and moisturized.
Rockwell Boar Bristle Beard Brush
Cleans, shapes and softens the beard. Natural boar bristles are gentle on skin, while tidying up facial hair and keeping the beard looking healthy.