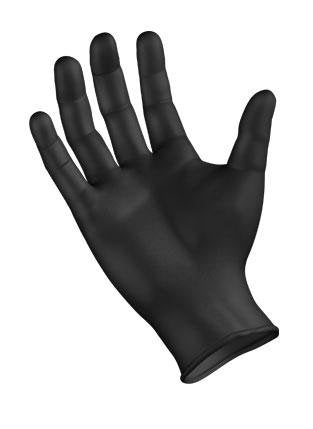 SemperForce Black exam Nitrile Large 100 Gloves/box
The Sempermed SemperForce disposable glove is made of nitrile, is packaged 100 gloves per box, comes in black and meets ESD-tested and approved standards. Proper sizing is important when buying this SKU. The size of this product is Large. ology applications.
SemperForce Nitrile Gloves Features
Value Priced!
Highest tensile strength** (21 mpa) of any nitrile glove we've ever offered!
Manufactured without natural rubber - Synthetic Nitrile Rubber (NBR)
Textured fingertips - Enhanced dexterity and gripping capabilities
Hides stains caused by grease, dirt, dyes, and ink
Eliminates exposure to latex and potential allergens
Forms to your hand to allow full range of motion
Beaded Cuff and Ambidextrous
Approved for Medical Use
100 gloves by weight per box
Thickness (Single Wall)
Finger: 5.60 mils (median)
Palm: 4.56 mils (median)
Physical Properties
Tensile Strength: 21 MPa (median)
Elongation: 511% (median)
Tensile strength measures the force required to pull something such as a glove, rope, wire, or a structural beam to the point where it breaks, and is the ultimate measurement of a premium quality glove.