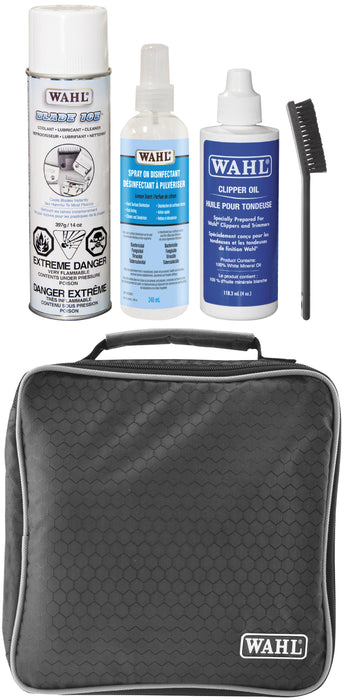 Wahl Blade Care Maintenance Kit
Wahl Blade Care Maintenance includes:
Wahl Blade Ice Coolant Lubricant & Cleaner - 14 OZ :Â

Wahl presents an improved formula which is designed to clean, lubricate and cool hot blades. A high-quality lubricant such as this can help to dramatically increase the life of clippers and should always be used for cleaning purposes.

Wahl Spray-On Disinfectant Spray (240ml):Â

Wahl's Spray-On Disinfectant Spray is a hard surface cleaner that promotes healthier environments. This highly efficient disinfectant comes in a spray bottle easily with easy dispensation. Featured in a lemon scent, making surfaces look and smell clean. This potent concoction has been crafted to eliminate microbial, bactericidal, fungicidal, virucidal, and tuberculocidal bacteria, ultimately preventing the spreading of infections by creating a safer working environment.Â

Wahl Clipper Blade Oil - 4 OZ Bottle: A lubricating oil specifically prepared for Wahl's clipper blades. The Wahl Clipper oil improves performance and extends your blades life. This clipper oil is a top of the line blade maintenance product. Use 2-3 drops on your blades between every few clips.
Â